ND YAG Laser / Q-Switch ND: YAG Laser Pigmentation Tattoo Removal Laser Beauty Machine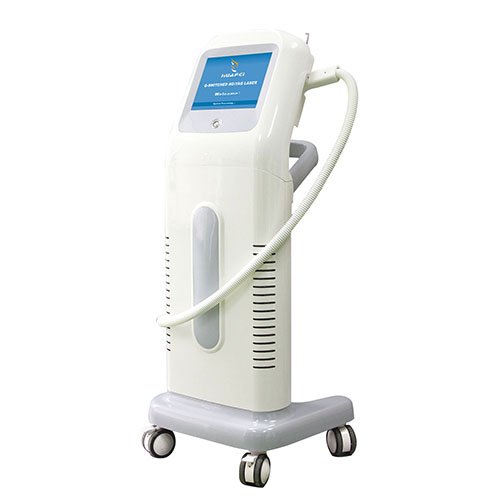 Q-Switched Nd Yag Laser technology has greatly improved the ability to treat melanocytic lesions and tattoos with the rapidly pulsed Q-switch.The Nd yag laser treatment of pigmented lesions and tattoos are based on principle of selected photothermolysis.
HuafeiMedical Laser Q Switch Nd Yag System delivers light of specific wavelengths in very high peak energy pulses which are absorbed by the pigment in the tattoo and result in an acoustic shock-wave. The shock-wave shatters the pigment particles, releasing them from their encapsulation and breaking them into fragments small enough for removal by the body. These tiny particles are then eliminated by the body.
Since the laser light must be absorbed by the pigment particles, the laser wavelength must be selected to match the absorption spectrum of the pigment. Q-Switched 1064nm lasers are best suited for treating dark blue and black tattoos, but Q-Switched 532nm lasers are best suitable for treating red and orange tattoos.
unique water cycling technology ,so it can be used directly without preheating .
Microcomputer controlled ,so it is very precise and safe .
Plastic shell features anti-static and anti-interference ;with touch color screen ,it is easy for operating .
Smart cooling system ,which protect the machine working within normal temperature .
The internal structure of modular design ,so it is convenient for test ,repair and maintain .
1064nm laser can penetrate into deep layer of the skin ,so it is easily absorbed by blue ,black and green color pigment ;therefore it is very suitable to treat the pigment disease in the dermal layer .for example ,getting rid of tattoos ,eyebrow tattoos and pigmentation disease .
532nm laser can penetrate into light layer of the skin ;therefore , it is very easily absorbed by the brown ,red and deep-brown color pigment .For example ,eliminating freckles ,pigment spots and other light -color tattoos .
Tattoos ( black, brown, red, blue ,etc.) Tattoo eye line,tattoo eyebrow
Pigmented lesions : Sunspot ,Age spots, Nevus,Freckle.
Carbon Laser facial : Skin rejuvenation , fine wrinkles and expression lines removal, pore firming,lighten spots,oil control
| | |
| --- | --- |
| Laser Type | Q switch Nd: YAG Laser |
| LCD | 7*Color Touch Screen |
| Laser Wavelength | 532nm/1064nm |
| Pulse Width | 1100mj 2200mj |
| Frequency | 1-6Hz |
| Pulse duration | 12ns |
| Power supply | AC 110V/ 10A / 60 Hz  AC 220V/ 5A / 50 Hz |
| Cooling method | Water cooling system |
| Net Weight | 15 Kg |