Fractional CO2 Laser Medcial Equipment for Skin Resurfacing and Scar Removal Facial Treatment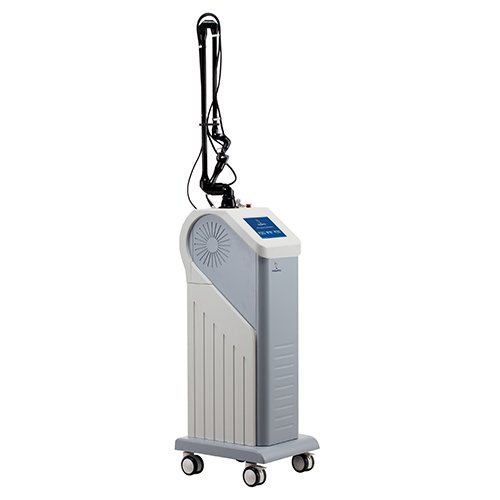 The wavelength of CO2 laser is 10.6μm, which can be fully absorbed by human biology tissue (laser for all the skin are available).The heating and galvanomagnetic effect can minimize bleeding or even no bleeding in the process of cutting, burning, gasification and minimally invasive laser therapy for face, acne scars treatment.
Therefore, Co2 laser is widely used in this kind of treatment, to make skin with the best result on laser for skin rejuvenation, meanwhile safe and no any fractional laser side effects.
Our sealed-off fractional CO2 laser, whose output laser-light will be transferred by articulated arm, which has better sense of direction and higher energy density.
The output laser-light is one kind of invisible light, we adopt a red semiconductor laser-light as a guide light.
When the laser beam go through the focus lens, the produced heat will gasify the target tissue, which can be used in cutting and burning. The unfocused laser beam can be applied in the coagulation surgery, for its low energy density.
The machine uses the most advanced microprocessor technology (controlled by touch screen) to control the corresponding power, so that it can drive the sealed-off laser device output laser. The human interface design will bring you convenience and safety
 Adopt revolutionary three-dimensioned fractional laser technology, safe treatment, and obvious result.
 Adpot high-power and super stable laser head, so output power is very high.
 Muti-fractional modes.
 Adopt adjustable rectangular pulse width control technology to precisely control pulse and to strictly control heat transfer.
Personalized user interface design for screen, suited to different customer needs.
Non-invasive treatment, faster recovery and safer treatment.
To improve skin texture, shrink pores; Make the skin smooth and tender; Start a skin micro exfoliation treatment under fractional mode, meanwhile, make collagen renewal through heat stimulation of fractional laser, and finally skin gets tender and more elasticity.

To tighten face and neck, with the function of face-lift and enhancement.

To remove fine wrinkles around mouth, eyes, forehead, etc.

To treat surgical and acne scars.

To whiten face and remove pigmentation.
DT-803, CO2 Fractional laser machine has two treatment modes: "treatment normal model" and "Scanning model".
Single pulse output;Repeat pulse output;
Continuous pulse output; Ultra-pulse output
Working model
Single pulse, continuous pulse and repeated pulse
Output power
0~30W(adjustable)
Input power
450VA
Laser type
Sealed-off CO2 laser
Laser mode
Lower mode
Laser wavelength
10.6μm
Divergence angle
4mrad
Focused spot diameter
≤0.4mm
Tool bit focus
F=100mm(optional )
Pulse width
0.02~0.99s
Aiming beam
Red diode laser(650nm,2mW)
Transmission system
Spring -balanced 7 joint arms
Cooling system
Inside-circle coolant
Controlling system
Controlled by microcomputer
Display screen
LCD
Working environment temperature
5~40℃
Humidity
<80%
Air pressure
86KPa~106 KPA
Input power
AC220V±10%,50Hz
Preheating-time
>5min
Electromagnet
No electromagnet interrupt
other working environment
No obvious shaking or airflow
Weight
NW
38kg
GW
65kg(wooden package)
weight
65kg
Size
130×60×70cm