RF CO₂ Fractional Laser for Scar Removal Vaginal Tightening Beauty Equipment
RF CO₂ Super Pulse fractional laser is a newest fractionated laser resurfacing technology which is the professional skin treatment with laser.. It adopts RF exciter CO₂ laser to change the physical medium and emission mode of laser source(Laser Co2 Fraccioado).
During the treatment, hundreds of evenly and orderly micro-level pulse laser beam acts on the treatment skin area, for acne, scars,wrinkles,etc Photothermal effect and micro invasive effect can accelerate the re-growth of collagen, and starting up the cell's self-regeneration, stimulating the cell's metabolism, which makes the skin resurfaced again,to get the best result on laser for skin rejuvenation, safe and no any fractional laser side effects.
 Adopt revolutionary three-dimensioned fractional laser technology, safe treatment, and obvious result.
 Adpot high-power and super stable laser head, so output power is very high.
 Muti-fractional modes.
 Adopt adjustable rectangular pulse width control technology to precisely control pulse and to strictly control heat transfer.
Personalized user interface design for screen, suited to different customer needs.
Non-invasive treatment, faster recovery and safer treatment.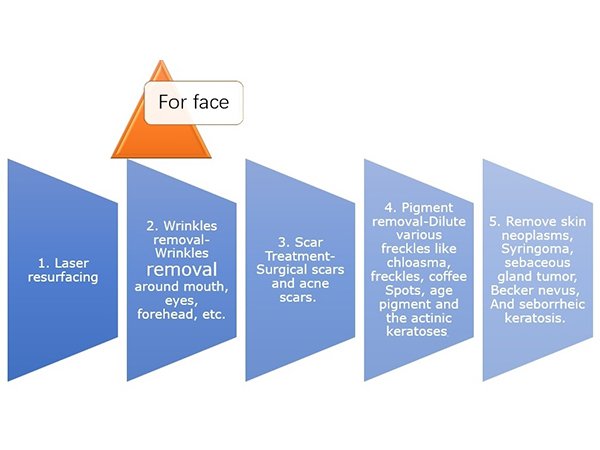 No necessity for water circulation, Operator-friendly and convenient

More stable frequency, great customers' experiences

Very durable, ultra long-life
To improve skin texture, shrink pores; Make the skin smooth and tender; Start a skin micro exfoliation treatment under fractional mode, meanwhile, make collagen renewal through heat stimulation of fractional laser, and finally skin gets tender and more elasticity.

To tighten face and neck, with the function of face-lift and enhancement.

To remove fine wrinkles around mouth, eyes, forehead, etc.

To treat surgical and acne scars.

To whiten face and remove pigmentation.
| | |
| --- | --- |
| Laser Type | RF CO₂ laser |
| Working Mode | Continual pulse, single pulse, super pulse, repeat pulse, magical pulse |
| Output Power | 0~30W, adjustable |
| Focus Spot Diameter | 0.4mm |
| Lens Focal Distance | F=100mm |
| Delivery System Spring-balanced | 7-joint Articulated arm |
| Operating mode | Normal mode, Scanning mode, Vaginal Tightening mode |
| Scanning mode | 1-500MS |
| Control Mode | 10 inch Color Touch Screen |
| Pulse Duration | 1-500MS |
| Cooling System | Air cooled |
| Laser Wavelength | 10.6μ M |
| Power Supply | AC220V± 10%, 50Hz(AC110V± 10%, 60Hz) |
| Input Power | 500VA |
| Environment Temperature | 5~40C |
| Relative Humidity | < 80% |
| Gross Weight (kg) | 60KG(wooden packing) |
| Scan Density | 0.5-4 dots / mm |
| Scan Range | 20X20mm |