RF CO₂ Fractional Laser for Scar Removal &Vaginal Tightening Beauty Equipment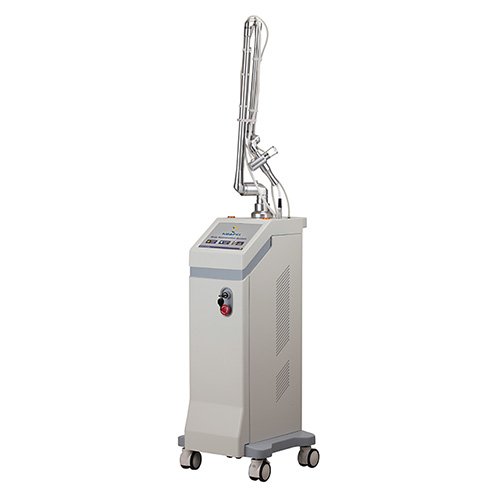 RF CO₂ Super Pulse fractional laser is a newest co2 fractional laser resurfacing technology which is the professional skin treatment with laser. It adopts RF exciter CO₂ laser to change the physical medium and emission mode of laser source(Laser Co2 Fraccioado)
During the treatment, hundreds of evenly and orderly micro-level pulse laser beam acts on the treatment skin area (for acne, scars,wrinkles,etc). Photothermal effect and micro invasive effect can accelerate the re-growth of collagen, and starting up the cell's self-regeneration, stimulating the cell's metabolism, which makes the skin resurfaced again, to get the best result on laser for skin rejuvenation.
The intravaginal probe worked on the photothermal effects of CO₂ Fractional laser to treat women private part, laser bean acts on vaginal mucosa and muscular layer to stimulate fibroblast regeneration in lamina propria and muscular layer, to make damaged collagen fibers, elastic fibers remodeling vaginal wall thickening and tightening.
 Adopt revolutionary three-dimensioned fractional laser technology, safe treatment, and obvious result.
 Adpot high-power and super stable laser head, so output power is very high.
 Muti-fractional modes.
 Adopt adjustable rectangular pulse width control technology to precisely control pulse and to strictly control heat transfer.
Personalized user interface design for screen, suited to different customer needs.
Non-invasive treatment, faster recovery and safer treatment.
Why can produce large amounts of collagen?
 Tightening Immediately: After heating, collagen will shrink and tighten immediately, showing lifting, compact sense. (Erbium laser in the mucous membrane and muscle depth of 50-70 degrees. )
 False thermal damage: The False thermal damage reaction will be formed in the mucous membrane and the deep muscle, activating the human body self-healing system reflection mechanism. Collagen fibroblasts activated quickly and produce large amounts of collagen automatically, reconstruction of the mucosa and muscle layer of the fiber holder, restore the young and elastic vagina.
>
Specific ways
Effect
Persistence
Safety
Influence
Surgery  treatment
Suture or cutting operation
Exactly, but no enhancement of elasticity
Keep about 1 year
Surgery risks and pain
Medicine treatment
Vaginal tightening rods or drug inside plug
Effect immediately, but gave dependence
Always use
Side-effects, using for long term will cause vaginal endometrial thinning, Self-contraction function degradation
Injection therapy
Collagen-filled or growth factor-pin
Maintain
Time is limited
More lasting
There rejection reaction may induce complications
RF CO₂ Fractional Laser
High-tech equipment non-invasive
Exact
Maintained for more than two years
Safety,
Can long-term repeated treatm
>
| | |
| --- | --- |
| Laser Type | RF CO₂ laser |
| Working Mode | Continual pulse, single pulse, super pulse, repeat pulse, magical pulse |
| Output Power | 0~30W, adjustable |
| Focus Spot Diameter | 0.4mm |
| Lens Focal Distance | F=100mm |
| Delivery System Spring-balanced | 7-joint Articulated arm |
| Operating mode | Normal mode, Scanning mode, Vaginal Tightening mode |
| Scanning mode | 1-500MS |
| Control Mode | 10 inch Color Touch Screen |
| Pulse Duration | 1-500MS |
| Cooling System | Air cooled |
| Laser Wavelength | 10.6μ M |
| Power Supply | AC220V± 10%, 50Hz(AC110V± 10%, 60Hz) |
| Input Power | 500VA |
| Environment Temperature | 5~40C |
| Relative Humidity | < 80% |
| Gross Weight (kg) | 60KG(wooden packing) |
| Scan Density | 0.5-4 dots / mm |
| Scan Range | 20X20mm |